Customer Reviews
11/19/2020
Joanne H.
United Kingdom
My amazing Buddha pants!
Great service and they are literally the most comfortable item of yoga clothing ever! I adore them
06/30/2020
Valerie D.
United Kingdom
Brilliant
They were a gift to a dear friend who loved mine and she now equally loves hers!
06/30/2020
Janna V.
Canada
Love them!
This is my 3rd pair of Buddha Pants. I wanted them for over a year before I finally bought because I wasn't sure if the price was worth it. I finally bought my first pair a month or so ago, now pairs 2 and 3 just came in the mail today. The colours are SO bright and strong. The pants themselves are super comfortable (why wear lululemon when these exist??) and I love all the ways u can wear them. I'm a tall lady with long legs and the mediums are still long enough for me! Somebody stop me before I buy another pair, I already have my eye on the next print! Seriously, these pants are worth it. Just be aware when u first get them that they come super wrinkly and bunched from shipping, but after a couple days' wear they will relax and look much better. I was underwhelmed by my first pair and thought "dang they looked better online" but they just needed time to unwrinkle!!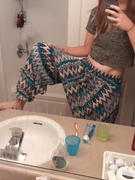 05/17/2020
Chelsea L.
United Kingdom
In Love!!!
After buying my first jumpsuit from you guys I needed more! The pants are so beautiful, so well fitting and make me feel confident in my body :) so good to move and dance in. Thank you!